TORS OF DARTMOOR
a database of both lesser & well-known rocks and outcrops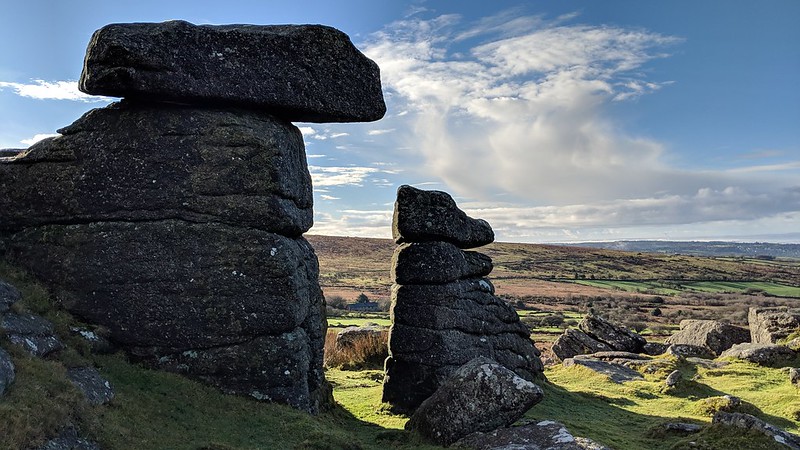 Welcome to this searchable database celebrating the numerous tors and significant rocks of Dartmoor National Park, the well known that are shown on Ordnance Survey maps and those that are little known, merely remarked upon in the literature yet still not shown on maps. Then there are those that are the hidden tors, obscured on the slopes of East Dartmoor buried beneath a canopy of trees near to Lustleigh, Hennock, Manaton and Moretonhampstead. Currently, with 854 locations listed and 3204 photos, we believe this is the most definitive collection available of both lesser and well-known tors and rocks and has involved at least a decade of exploration.
Search for a Tor
Using the options below you can either search by Civil Parish, by the 4 figure Ordnance Survey SX Grid Square (ie. "6267") or simply type in the name of the tor you are seeking. Alternatively, just browse them all using the "Full List".
Search for a Tor

By Civil Parish:

By Tor Name:

By Ordnance Survey 'SX' Grid Square (4 figure)

The Full List:
Further Info
We are delighted to announce that this database includes the excellent work of Tim Jenkinson, who has spent the last decade documenting the outcrops on East Dartmoor. For more on his work, visit here.
You can also drop into our "Team" page to find out a little more about Tim and the other members of the Tors of Dartmoor team. In addition, we acknowledge the works of a few individuals.
Visit our "About" section to understand the reasons for the database and the format we have presented this information.
Finally, if there are any tors you consider to be missing, or discrepancies, we are happy to investigate, add, or correct an error. Simply fill out our Contact Form and we will get back to you as soon as possible.
---